How to Pack a 20ft Shipping Container
December 13, 2022
Whether you're moving house, business location, or need a storage container solution, you want to make sure you are packing your shipping container to not only make the most of the space but to ensure the longevity of the items stored or being relocated. Continue reading as we explore our top 7 tips on how to pack a 20ft shipping container.
Clear the Area
The very first step is to clear the area to ensure you are ready for when the shipping container arrives. Consider the size of the 20ft shipping container, as well as how the storage company will access the designated "drop off" area.
Other things to consider when it comes to the shipping container's placement include:
Somewhere that will allow you easy access
The container doors are facing the right way (for easy access)
In a position where you are able to move freely around it
Not blocking off any residential or commercial traffic
Easy to open and close the container doors

Keep an Inventory List of Your Items
Before packing the container, prepare an inventory list of all your business or household items. This will help you identify how much space is needed and how many boxes are required, making it easier when packing. It will also be useful if anything should go missing during transit, as a detailed list can aid in any insurance claims.
Pack Individual Items in Boxes
Start by packing any smaller business or household items separately in cardboard boxes or plastic containers. This could include clothing, books and fragile items such as glassware and ceramics.
For added protection, use bubble wrap, foam padding or packing paper around fragile household goods before placing them inside the box, and cushion them with soft materials to further absorb shock during transit. If you have extra bubble wrap left over, use this to fill in additional spaces.
Additionally, place heavier items at the bottom of each box and lighter items on top to ensure they are not crushed while being transported.
Last, but definitely not least, make sure the boxes are clearly labelled or you have an easy way of identifying what's in what box. There's nothing worse than trying to find one item in a 20ft shipping container and having no idea where to start looking!
Pro tip: Before relocating or storing items, spend some time culling the items you no longer need or want. This will save on floor space and the time it takes you to pack.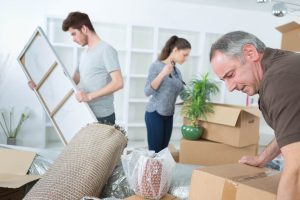 Remove Water from Tanks & Dehumidifiers
Ensure that all tanks and dehumidifiers are emptied before packing them into the container. This prevents rusting or unnecessary weight from being added to the container during transportation.
Remove any Flammable Liquid
Remove any fuel or oil from containers such as lawnmowers, BBQs or generators. Doing this will prevent fumes from entering the container during transit potentially causing harm to your belongings within the now enclosed environment. Additionally, it will also reduce fire risk if a spark is present within the container.
Disconnect Batteries
If you have any items with a battery, such as a drill or vacuum cleaner, it is important that the battery is disconnected prior to packing into the container. This will prevent electrical currents from damaging other possessions stored inside the container and reduce potential sparks.
Secure Large Items
For large furniture pieces, it's important they are securely strapped down onto the container's floor using ratchet or loading straps, or similar means of securing cargo into place. You may also consider building 'walls' out of timber boards to secure the furniture in place and prevent it from shifting position within the storage container during transit.
Lastly, consider using furniture blankets to protect large items that may need protection, such as couches and mattresses.
Pro tip: Have a plan! Before you start packing the 20ft shipping container look at all the items you have and plan where they should go to make the most of the space.
By following these steps, you can rest assured that your items will make it safely to their destination and arrive in the same condition they left in! With a little bit of time and effort, you can pack your 20ft shipping container with confidence knowing that everything has been safely secured and is ready for transport or storage.
Save Stress and Time with U-Move
Whether you need a long-term storage solution, or you need to transport home or business items, get in touch with the professional team at U-Move. We can deliver anywhere in Australia and offer competitive rates. Plus, if you don't have time to pack the shipping container, let us do it for you! We are extremely careful with all items and treat them as if they were our own.
We also offer mobile storage containers in Perth metro area and beyond, where our fleet trucks deliver the shipping container to your site and pick it up once done. So, no need to transport all your items to the container – we come to you!
Contact U-Move today with your shipping container questions and we will be more than happy to share our vast knowledge.
FAQs About 20ft Shipping Containers
What is the internal capacity of a 20ft shipping container?
At U-Move, the internal capacity of our 20ft shipping container is 5.90m length, 2.35m width and 2.83m height.
What fits in a 20ft shipping container?
Generally, a 20ft shipping container is large enough to hold the entire contents of a standard three-to-four-bedroom home. Of course, this depends on the amount and size of the items in the house.