Shipping Container Shops & Cafes
Shipping Container Shops & Cafes
Recycling and Sea Container Shops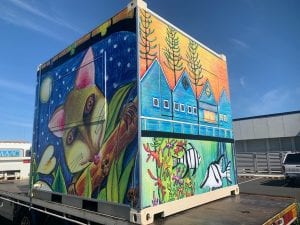 Sea Container Shops
So everyone loves a market, or the capacity to take their business to a country show, or event, but not everyone can afford to take their store on the road. Setting up and transportation into a tent type pavilion can be time consuming and damaging to your stock. Not to mention weather restraints, making many question if it is worth the profit they may make.
But, have you ever considered a repurposed sea container? There are many pros when it comes to modifying a shipping container to suit your business purposes. Whether you have a cafe, a bar a restaurant or even a great retail shop, a sea container can be decked out and modified as cheaply or as extravagantly as your budget desires.
So let's talk about the pros:
Good for the environment
Customisable to suit your needs
Easy and secure lock up
Dust free & water proof
Transportable
Unique
Very affordable
Another key benefit to mention is that a container gives you the opportunity to create an experience,  particularly if you are planning to take your business to events, such as the Royal Show, Fringe World, or a Music Festival. You have the opportunity to paint the exterior, get creative with the frontage and entice people to check you out, without spending a small fortune.
There are markets south of Perth, home to some fantastic brightly coloured sea containers. They offer great protection from the weather and are eye-catching to tourists.
Sea containers typically come in 20 & 40ft sizing and are also available in a 10ft size. High Cube containers are also fantastic for modification as they offer extra height, giving way to more ceiling pace.
Many markets now host dozens of vendors that flash the wares from their modified shipping container.

Repurposed Shipping Container
Back to the 'good for the planet' part of why a modified shipping container is a great option: Well, millions of sea containers are used every year around the world, once they arrive fully loaded they are often not used again, instead they are sold off to be repurposed for either more shipping of goods or as storage etc. Others are left to sit at docks for years to come.
In recent times we are seeing more than ever the impact our human footprint has on the environment, therefore repurposing a sea container is a small way you can help.  It also provides an opportunity to fit the container out with completely recycled products, from timbers to metal benches and shelving. This again makes your customised container both cost-effective and somewhat of an attraction, all while doing your bit for the environment.
A great example of an 'attraction' is a container that has been brightly painted or is covered in a mural. Another modified container highlight, is the opportunity to have more than one level, a bar or cafe for instance, could use the roof as a deck for patrons to sip with delight while enjoying the sunshine. You could also choose to get extreme, using multiple containers to create an exceptional space to suit your business.
Sea Container Granny Flats
Many people are also turning to containers for Granny Flats and Tiny Homes. These are again cost-effective ways to have a sturdy watertight structure that can be fully customised to suit your needs, budget and design goals. Containers are easily mounted to a trailer frame or truck base and are also easy to transport to their temporary or forever home. Lots of businesses and sporting groups use them as an outdoor room for gatherings, or as a canteen.
The possibilities are endless!
U-Move Australia has been customising shipping containers for over 20years. Many modifications are done for mine sites and offshore rigs to be used as offices, workshops, donga's and bathroom facilities. U-Move Australia also stocks a range of new and used shipping containers for sale and for hire.
If you have a custom idea in mind or want to know more about customised shipping containers for your business, contact the friendly team at U-Move Australia today.