Top Tips For Preparing Your Boat For Storage
October 13, 2022
If you own a boat, you probably understand the importance of proper storage, especially during winter when you are not likely to use it.
Getting your boat into a storage unit is a good idea since it will be safe from harsh weather conditions and you can rest easy regarding its security. Storing your boat properly will ensure its protection during this long period of non-usage.
If you do not take care of all the basics for storing a boat properly, you will not be able to guarantee its safety and usability after the winter passes – and this can lead to additional maintenance and replacement costs.
Here we explore how to prepare your boat for winter storage.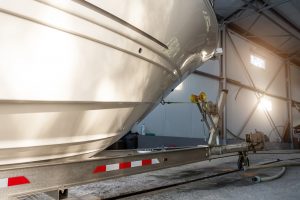 Get the boat checked out
You need to take care of the boat first if you intend to store it. This means you must have it checked out for any damages and impending problems with the parts.
So inspect your boat carefully for signs of wear and tear. If your knowledge of boats is limited, it's best to engage a professional boat maintenance specialist.
Once the inspection is complete, it's important to get any issues fixed.
While it may seem convenient for you to push the repair or maintenance work onto the next season, if issues are not identified and sorted early on, they may lead to bigger issues and more expense down the track.
Not only that, but come spring, your boat will be ready for use. You'll be glad you got the work done in winter when you didn't want to use it.
Get it cleaned up
Clean both the exterior and the interior before storing your boat in a self-storage unit.
Rather than storing it with all the mess and clutter of the previous season, get it ready for the next season.
This also includes getting your boat antifouled. Antifouling protects your hull from marine growth, and involves applying a protective paint layer to the bottom of your boat.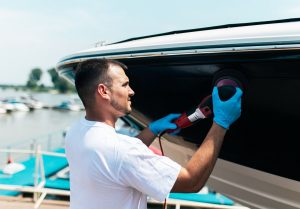 Dealing with the engine and other electronics
Storing the boat during winter implies that the boat will be unused for quite some time. This means that you will have to take care of the engine and electronics in order to avoid damage to them during storage.
As such, it is always a good idea to have the electronics removed before you store the boat. The battery for example will have to be stored in a place that's warm and dry. You also have to make sure that you get rid of any rusty battery terminals and replace them before you start using your boat.
The engine on the other hand will be better off being checked by the mechanic and the boat should be left with the gas tank full.
Storing your boat seems like an easy consideration when winter is coming, but you need to do it right if you are to reap the benefits of a well-stored boat after winter.
Find a Reputable Storage Provider
However, many risks associated with boat storage can be eliminated by storing your boat in a water-proof, dust-proof and pest-proof unit.
When it comes to selecting a storage company for your boat, it's important to do your due diligence. Make sure that the unit is secure and protected with 24-hour surveillance.
Contact U-Move today with your boat storage questions and we will be more than happy to share our vast knowledge.