Inside Shipping Container Homes: Our Top 10 Design Picks
January 18, 2023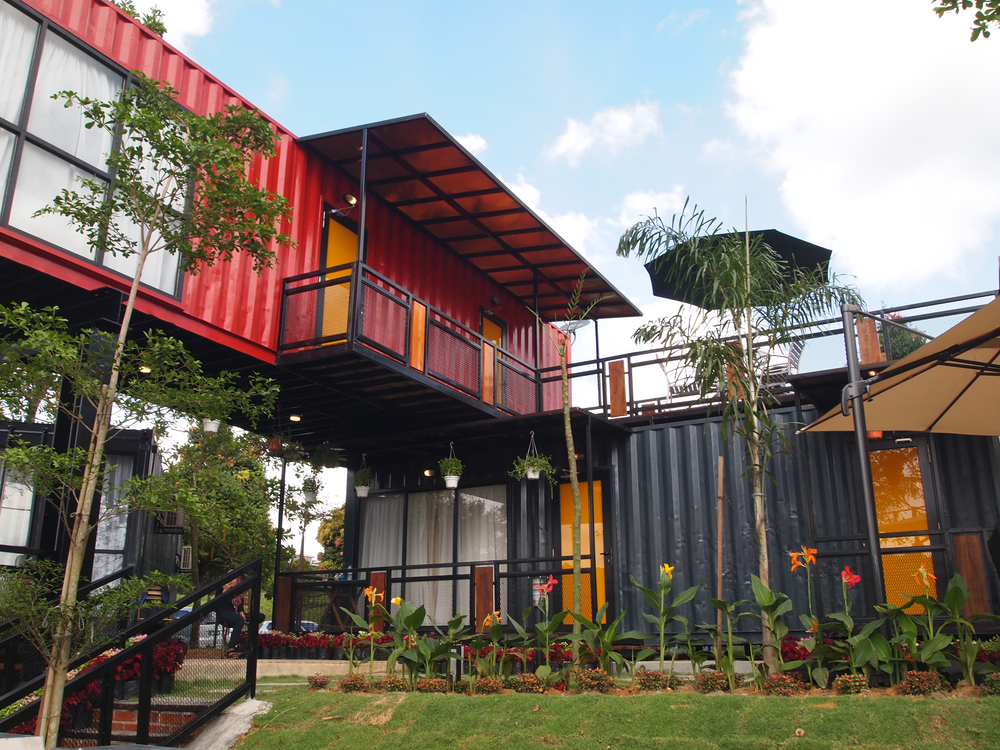 Homes made from recycled shipping containers have gained popularity in recent years as a more affordable and sustainable alternative to traditional homes.
They can be a good option for people who are looking to build a home on a budget, or who want to have a unique and eco-friendly living space. They are especially popular in urban areas, where space is at a premium and traditional construction may not be possible.
Creating a shipping container home can involve cutting openings for doors and windows, installing plumbing and electrical systems, and adding insulation and finishes to the interior. Shipping container homes can range from a tiny house to large, multi-story homes with all the amenities of a normal home.
Continue reading to discover more about modified shipping container homes including our top 10 shipping container home designs to help inspire you.
What are the benefits of a shipping container home?
Shipping container homes are a unique and innovative type of modular home that offer a number of benefits, including affordability, durability, and sustainability.
Shipping Container Home Cost
One of the main benefits of shipping container homes is their cost. Because they are made from repurposed materials, they are significantly cheaper to build than traditional homes, especially in areas with high housing costs.
This is also because shipping containers are mass-produced, so they can be purchased in bulk at a lower cost and you don't need to buy as many building materials.
Quick Construction
Another benefit of shipping container homes is their quick construction time. Because shipping containers are already prefabricated, they can be modified and assembled on site relatively quickly compared to traditional homes. The same goes for shipping container pools.
To build a shipping container home, the containers are typically cut and welded together to create the desired layout and design. Plumbing and electrical systems are then installed, and insulation and finishes are added to the interior. Depending on the size and complexity of the home, construction can typically be completed in a few months.
However, you do need to consider the different types of permits you will need before beginning construction and adhere to any building codes.
Portability
Another one of the benefits of shipping container homes is their portability. Because sea containers are designed to be transported easily, they can be moved from one location to another with relative ease.
This makes them a good option for people who may need to move frequently, or who want to have a vacation home in a different location.
Durability
Shipping container homes are also highly durable and able to withstand extreme weather conditions. They are built to withstand the rigours of shipping, including being loaded and unloaded from cargo ships and being stacked in yards, so they are more than capable of standing up to the elements.
Because of their durability, shipping container homes can be a good choice for people who want a long-lasting and low-maintenance living space.
They can also be a good option for people who live in areas prone to natural disasters, such as earthquakes or hurricanes, as they are designed to withstand harsh conditions.
Sustainability
Another benefit of shipping container houses is their sustainability. By repurposing shipping containers, we are able to reduce the amount of waste produced by the shipping industry and reuse materials that would otherwise be discarded.
In addition, shipping container homes are often designed to be energy-efficient, with features such as insulation, solar panels, and rainwater collection systems.
Versatility
Shipping container homes can be customised and modified to suit a wide range of needs and preferences. They can be stacked or arranged in a variety of configurations to create a unique living space.
This versatility means the shipping container home design can be very creative and unique.
Our Top 10 Shipping Container Homes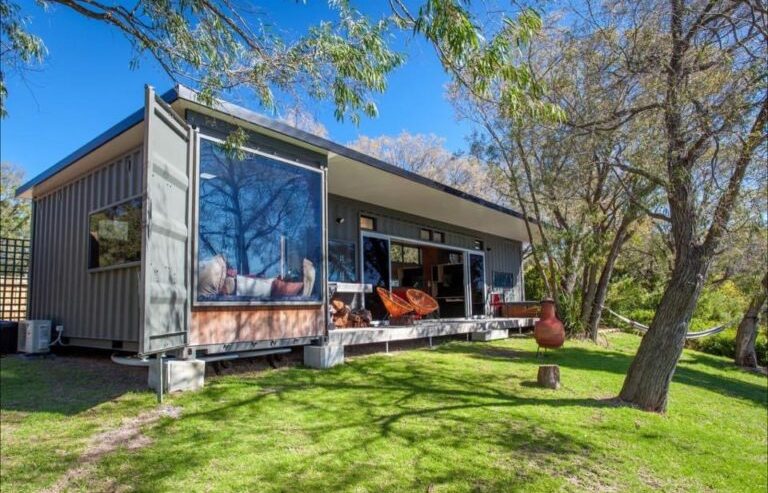 containerhomehub.com
1. Simon Howard's Australian Container Home
The interest in minimalism and tiny living is increasing. This one bedroom container home designed by Simon Howard is the perfect example of this trend.
One of the first things you will notice about this container home is its number of windows. This helps create the illusion of a larger space.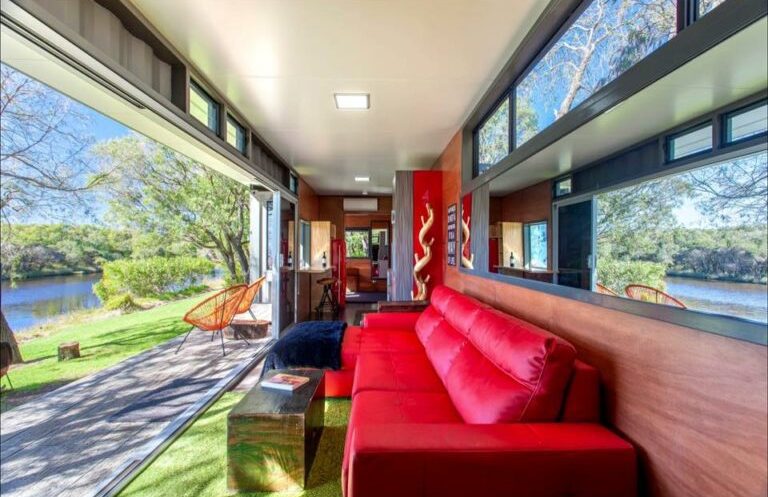 containerhomehub.com
In addition to its many windows, this home also features bifold doors that open almost the entire front side of the structure to the outdoors. This also creates an extension to the living area onto the front porch.
With such a beautiful view of the river, there's no surprise there is such a large focus on creating an indoor-outdoor space.
https://www.blackboxcontainerhome.com/
2. Black Box Container Home
The Black Box container home is located in British Columbia and is used as an Airbnb getaway.
Offering two separate suites sleeping 2, this contemporary container home was designed and built by HONOMOBO and features Scandinavian furnishings.
The design features floor-to-ceiling windows, sliding glass doors and a covered breezeway entrance perfect for outdoor dining.
The interior of this Airbnb container home features hardwood flooring, designer furniture and a stunning view of the outdoors from almost anywhere you stand.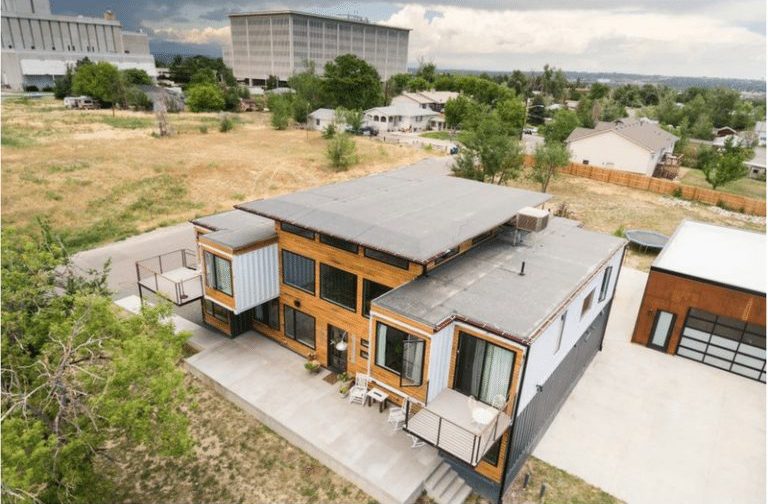 containerhomehub.com
3. Denver Shipping Container Home
Located in Northwest Denver, Colorado this mid-century modern style container house is made of 9 containers that are stacked to create two separate stories.
Built in 2016, this home features seven bedrooms and five bathrooms. The design of this house proves that a shipping container home doesn't have to compromise on space!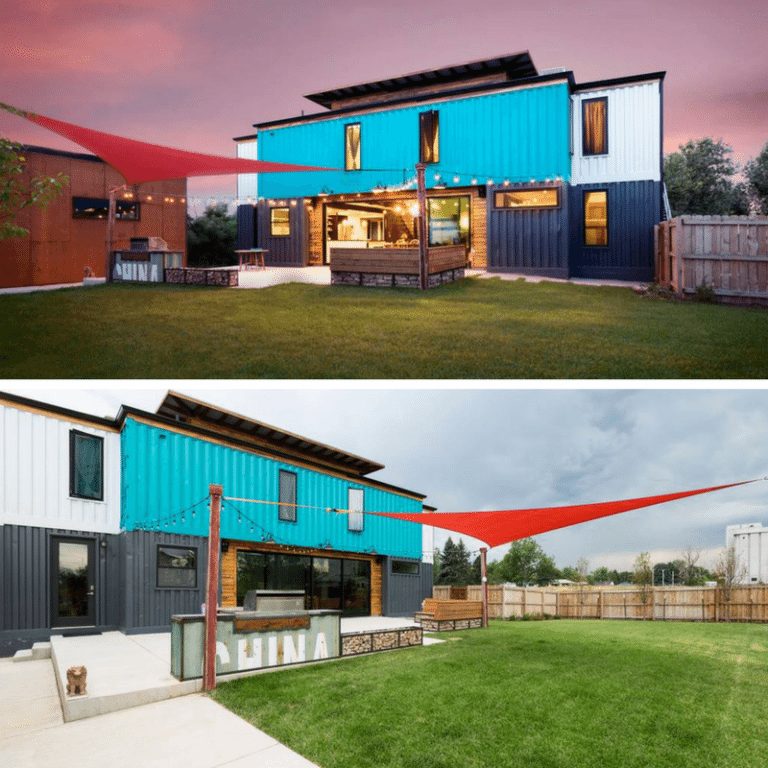 containerhomehub.com
One of the most unique features of this build is the bright colours of the original shipping containers showing in the backyard.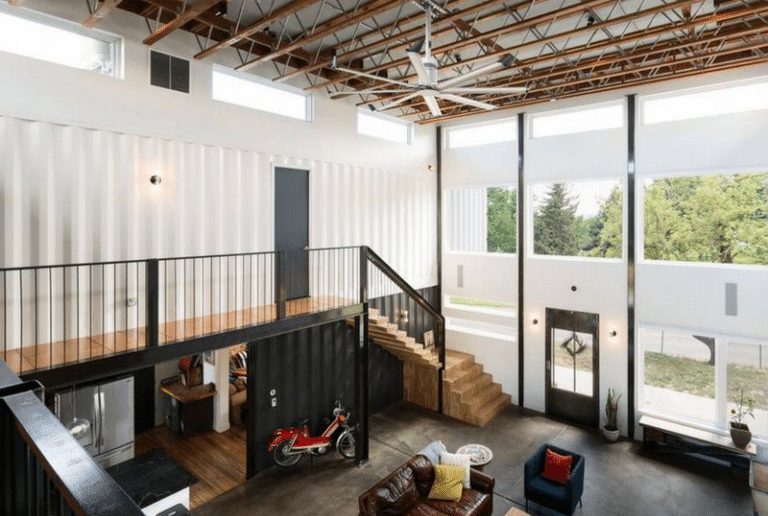 containerhomehub.com
Perhaps the most spectacular aspect of this design though is the wide open living area with its 25-foot vaulted ceilings.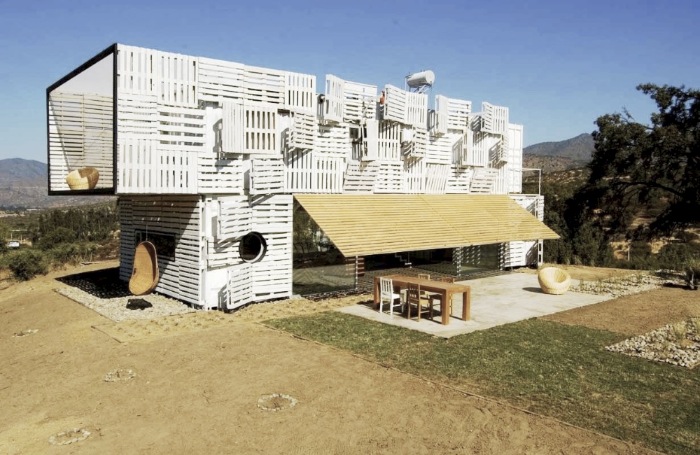 https://ecocontainerhome.com/
4. Manifesto House
Located in Chile, this 3 bedroom 3 bathroom features an eco-friendly design, open plan living, is energy efficient and has a 1760 square foot floor plan.
The most unique aspect of this home has got to be the exterior cladding made of wood palettes. Not only do the palettes add interest to the exterior, but they also serve a practical function.
The palettes provide shade over the exterior of the building while also allowing air to circulate through them. They can also be rotated to soak up the sun in winter to aid with passive heating.
Overall, this home is made from 85% reclaimed materials while also using 70% less energy than a regular home design.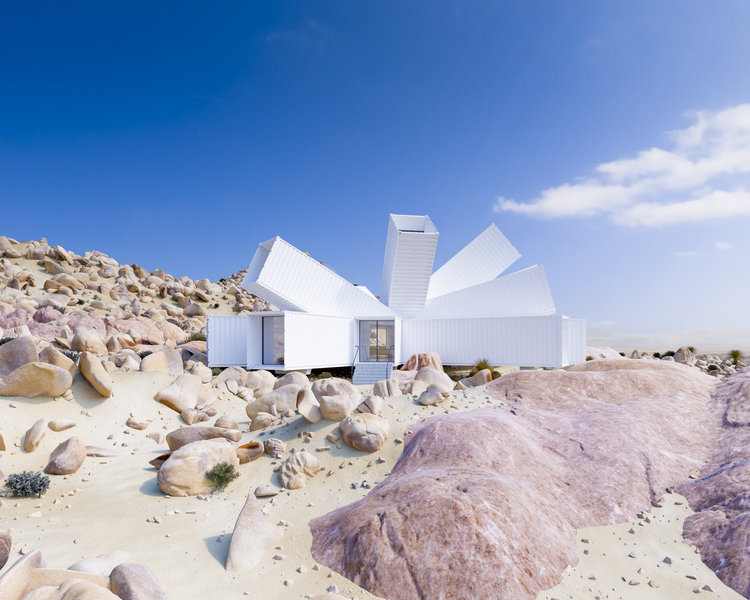 https://www.whitakerstudio.co.uk/
5. The Starburst House
This container home also known as the Joshua Tree Residence is one of the most unique designs we have ever seen. Bordering the Joshua Tree National Park in California, this house is built from 21 recycled shipping containers and is recognised around the world.
The 2000 square foot house features 3 bedrooms each with their own ensuite and is designed to look like an exploding star. It also has its own swimming pool and deck.
The property is up for sale for 3.5 million US Dollars and was commissioned by film producer Chris Hanley.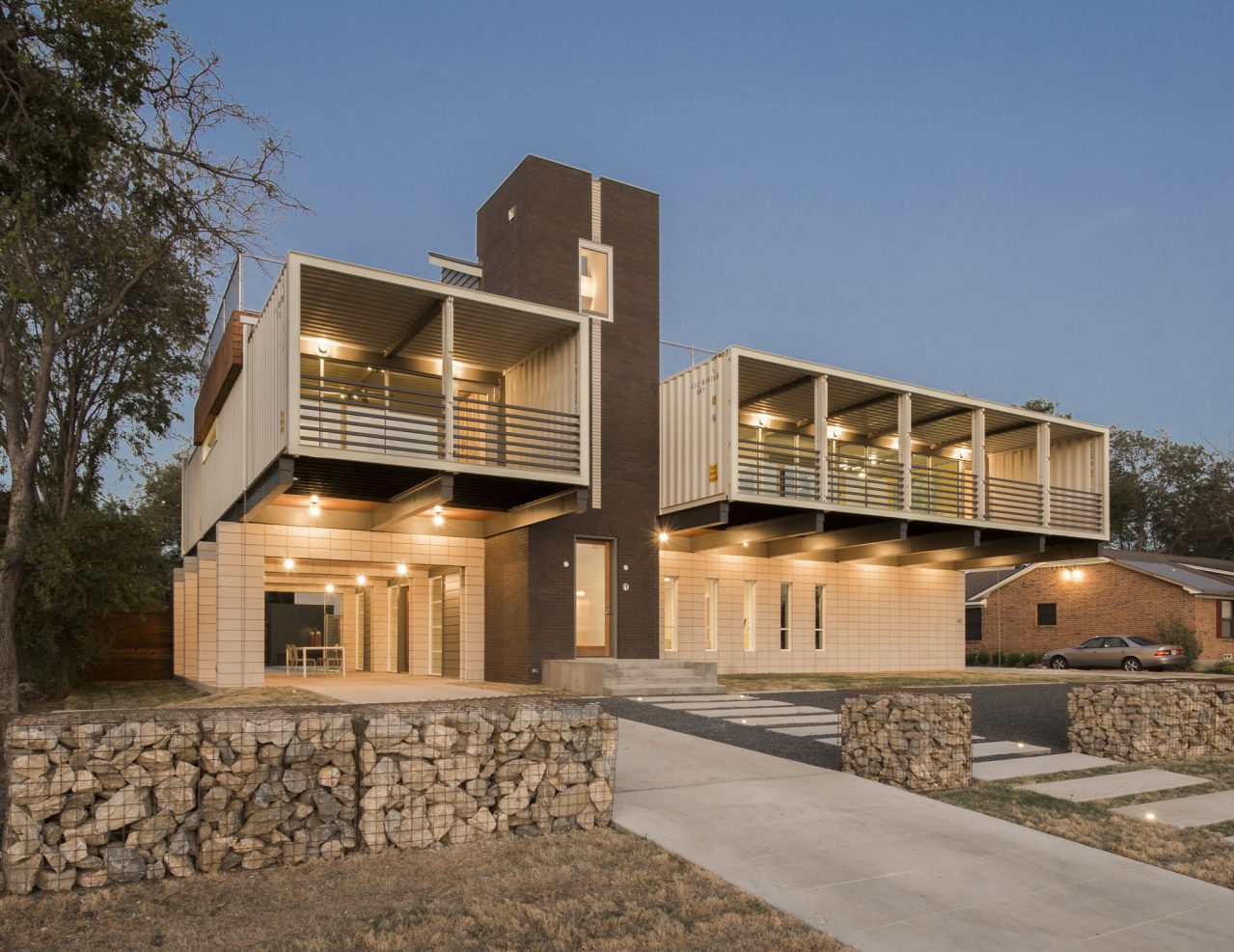 https://pv14house.com/
6. PV14
PV14 house is a container home built in Dallas, Texas out of 14 containers mixed with some traditional construction to create a substantial structure.
The name is a representation of the location, Peavy Road and the number of containers used, fourteen.
The design of this home features balconies, floor-to-ceiling windows and a rooftop deck. The balconies act as overhangs to protect the lower levels from the sunlight, the windows are double paned and the walls are filled with insulation to provide heat transfer resistance. This helps with the energy efficiency of the house.
This shipping container home is like a mansion with a 3700 square foot floor plan.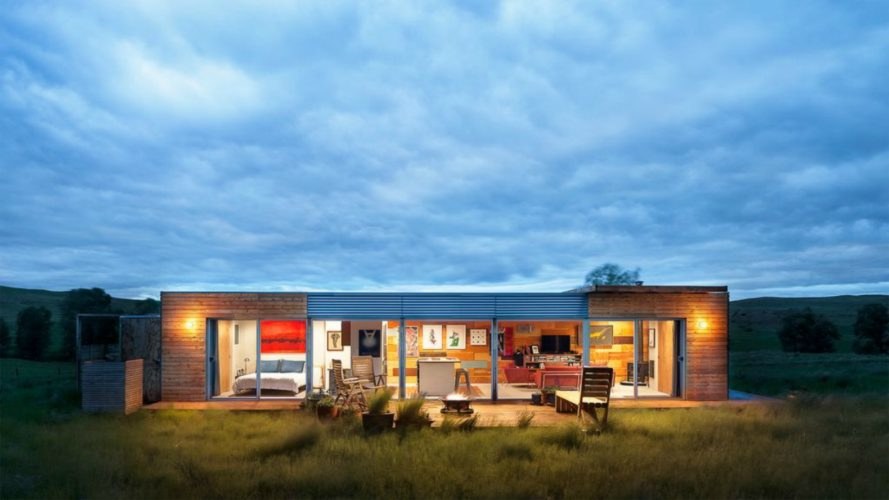 https://inhabitat.com/
7. TY Kelly
The Ty Kelly container home is located in Montana in the US and is made from 2x 40 foot containers. It was built in 2013 using these two shipping containers that create a 720 square foot home.
This modern shipping container home has a clean, contemporary style and includes 1 bedroom and 1 bathroom. It also has a modern kitchen and quality internal finishes.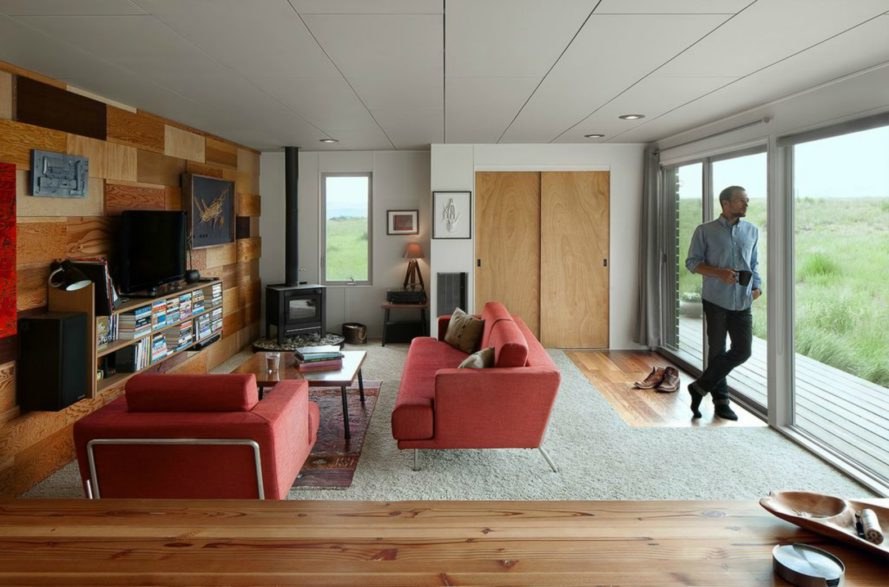 https://inhabitat.com/
The owner and designer of the house, Ty Kelly, has incorporated floor to ceiling windows to create that extra sense of space making the home feel bigger than it is.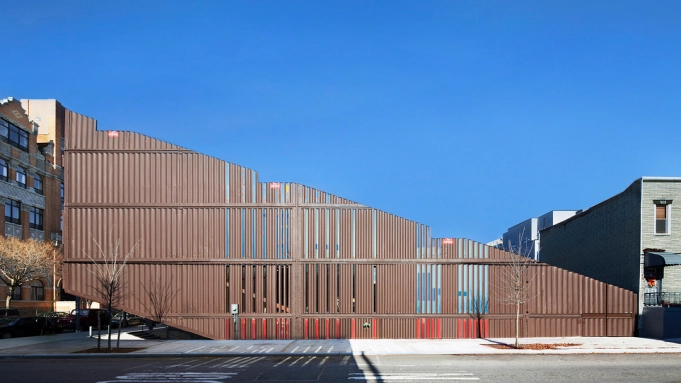 https://www.dirt.com/
8. NYC Shipping Container Home
This NYC shipping container home was built in 2016 in Brooklyn and is made from 21 shipping containers.
This home is 4 stories and is made into an odd slanted rectangle shape. This home is 3500 square feet and has 5 bedrooms and 3.5 bathrooms.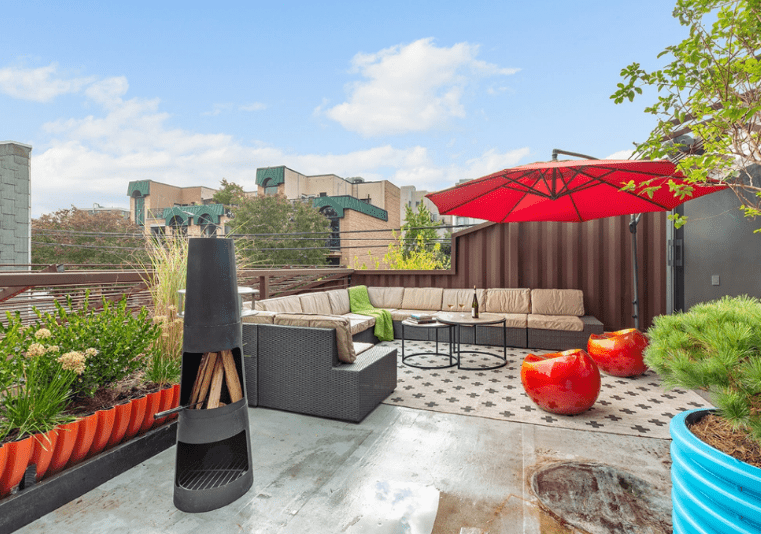 https://www.dirt.com/
Walls of glass fill the home with light and open to private terraces on 3 of the levels. The property also features 2 driveways and a garage.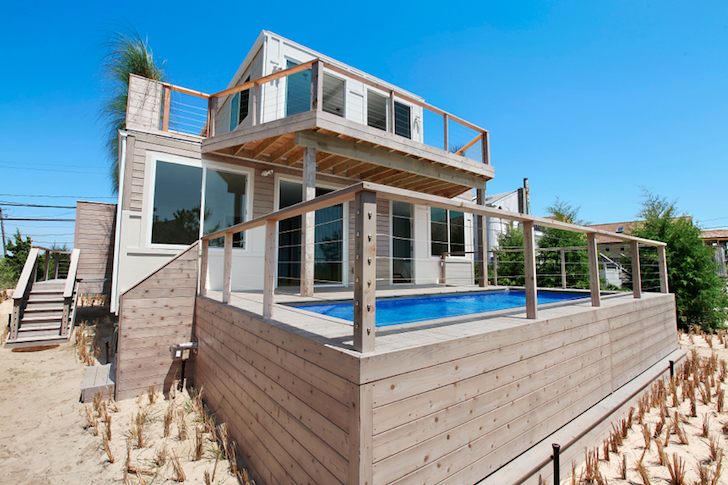 https://inhabitat.com/
9. Beach Box
The Beach Box shipping container home was built in 2011 from 6 containers and is a luxurious beach home located in the Hamptons.
The home features a rooftop deck and a heated salt water pool.
The building is covered in cladding which helps protect the metal cladding walls from the corrosive salt spray of the ocean.
The property is extremely energy efficient thanks to spray foam insulation, LED lights, tankless hot water heating, a reflective roof membrane, and an advanced climate control system.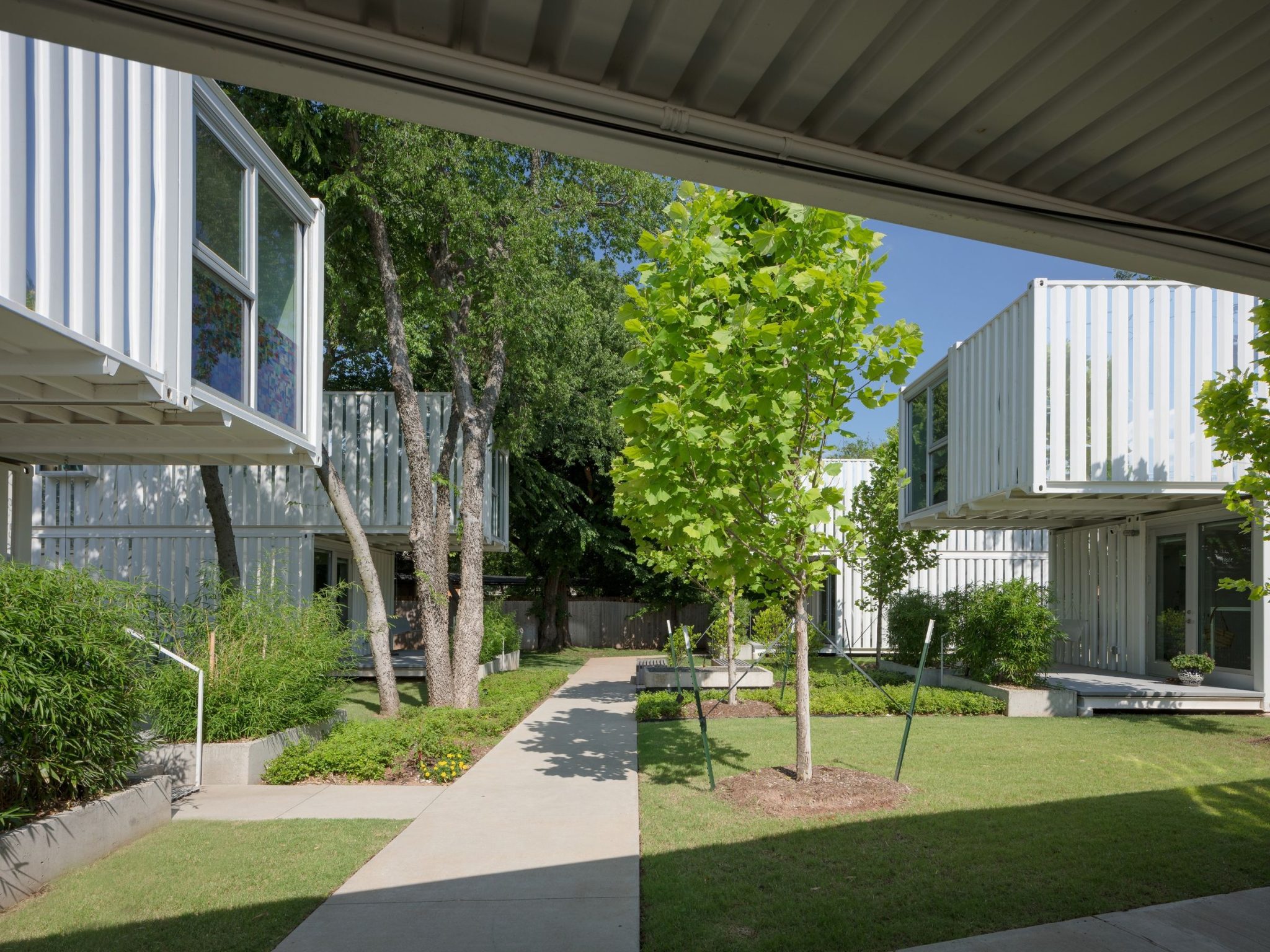 https://archello.com/
10. Squirrel Park
Squirrel Park is a group of 4 single-family homes constructed in a park-like setting from 16 used shipping containers.
Sustainability and neighbourhood engagement were the main goals of Squirrel Park. A shared pathway through the houses acts as a "street" that leads to a communal green area featuring a fountain and benches.
The architects reinforced the walls of the shipping containers to combat the hot and tornado prone climate as well as painted them white to reflect the sun.
Shipping Container Modifications
U-Move specialise in high cube and standard shipping container modifications.
Over the past 20 years we have completed a wide range of customised modifications, including tiny custom houses, restaurants, granny flats and more!
Anything you need customised, U-Move can do it.
For all your high cube container needs, contact our team at U-Move for a quote and experienced advice. We are here to help.